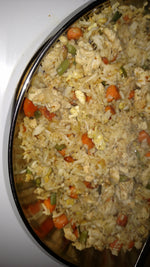 This fried rice recipe is so easy and doesn't leave you feeling excessively full and full of grease after eating it. I love Chinese food, but always hate how greasy it is, leaving me with a stomachache afterwards. Anyways, this recipe is easy and delicious, and actually nutritious. I use frozen vegetables to save time on prep work and leftover brown rice, so this recipe is ready in no time! Did I mention it will be cheaper than ordering out? Extra bonus!
Fried Rice (serves 2)
Ingredients
2 cups of cooked brown rice

1 chicken breast, cooked and cubed, or 1/2 pound cooked shrimp, or 1 cup of extra firm tofu, cubed and cooked for 15 minutes

1 package of frozen vegetables mix (I used Steamfresh vegetables with broccoli, water chestnuts, carrots, onions)

1 clove of garlic, minced

1 egg

1 tablespoon of sesame oil
1 tablespoon of either Sesame Teriyaki seasoning or toasted sesame ginger
3 tablespoons of soy sauce
Directions
Whisk egg and set aside
If you bought a bag of steamed vegetables, follow the microwave cooking instructions on the side of bag
Add oil to pan, saute the garlic for 1-2 minutes, until fragrant. Add the cooked vegetables and mix well. 
Push the vegetables to the side and add the egg to the pan, scrambling well. 
Add the cooked chicken, shrimp, or tofu to the pan, along with the brown rice soy sauce and sesame seasoning. Saute for an additional 3-5 minutes until well combined and hot.
Enjoy!! The recipe can be doubled and reheats well.
*Can be made gluten-free with Tamari sauce instead of soy sauce.
*Vegetarian friendly, can be made vegan by leaving out the egg
Adapted from Iowa girl eats