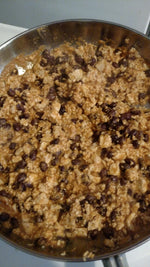 So why meatless monday? Cutting out meat at least one day a week not only can help reduce your carbon footprint, but it may also reduce your risk of preventable diseases, such as cardiovascular disease, diabetes, obesity, and cancer. This recipe below for the Sofritas Bowl is a good source of complete proteins, fiber, iron, and calcium, while also being low in saturated fat and sugar. 
I'm sure by now everyone has heard about the E. Coli outbreak that Chipotle was experiencing. After months of trying to avoid it, I was craving a sofritas bowl and decided to try to make something similar at home (without having to worry about getting E. Coli). I never cooked with tofu before, so needless to say I was little worried about how it would come out. I worried for nothing, because it was delicious! I even had a few friends over for dinner who love it and they told me they don't usually like tofu!
Ingredients
Sauce:
2 tablespoons adobo seasoning
3 cloves of garlic
4 tablespoons of olive oil
2-3 tablespoons of head ancho vinegar
1/2 cup salsa
1/4 tsp salt
a pinch of sugar or a 1/4 tsp of honey
Sofritas:
1 1/2 cups of brown or white rice, uncooked 
2 limes
16 oz of extra firm tofu
2 handfuls of fresh cilantro, chopped
1- 14 oz can of black or pinto beans, rinsed and rained
2 cups of corn
1-2 avocados (optional, but delicious)
Directions
1. Cook the rice according to the package directions, with 1 lime juiced added to the boiling water. After cooking, fluff with a fork and add the chopped cilantro
2. While the rice is cooking, prepare the sauce, by adding all of the sauce ingredients to a blender or food processor, and process until a smooth paste forms. I suggest tasting it, so that you can add more salsa or lime juice if needed.
3. Slice the tofu and press with paper towels to remove excess water. Heat a tablespoon of oil over medium-high heat and add the tofu , cooking until it's starting to get just golden. Scramble the tofu into small bits with a spatula and/or wooden spoon. Add the sauce, ½ cup water, corn, and beans. Simmer for 15-20 minutes, adding more water as necessary.
4. Assemble the bowl, layering the rice and sofritas, then adding sliced avocado and fresh lime juice on top. Enjoy! Serves 6
Nutrition Information for 1/6 of the recipe with the avocado
Calories: 500, Total Fat: 18g, Saturated Fat: 1 g, Sodium: 300mg, Total Carbs: 65g,  Dietary Fiber 15g, Sugar 3g, Protein 25g, Iron: 25%, Vitamin C 45%, Calcium 60%, Vitamin A 10%