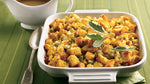 I am going to admit I took the easy way with this one and bought cornbread & I bought Pepperidge Farms unflavored cubed stuffing.
6-8 cups of Pepperidge Farms unflavored cubes stuffing OR 1 loaf of crusty French bread cut into cubes
6-8 cups of 8x8 homemade cornbread cut into small cubes or 2 loafs of store bought cornbread 
DRY the bread out either by leaving it on a sheet pan on your counter for a day or 2 or bake in a 250 degree oven for about 30-45 minutes, tossing every 10 minutes or so, until the bread is dry and stale.
1/2 cup of butter
1 medium onion, chopped
4 ribs of celery, chopped
4-5 cups of chicken broth or vegetable broth
Fresh sage leaves, 1/2 teaspoon of thyme and a 1/2 teaspoon of rosemary (you can add more or less according to taste)
Salt & Pepper to taste
Preheat oven to 350*
Melt butter in a large skillet and then add the celery and onion, cook until softened, 3-5 minutes
Add the herbs and 4 cups of broth, leave some fresh sage leaves for later.  Bring the mixture to a simmer.
Put the dried bread cubes in a large bowl and gradually ladle the broth mixture onto the bread, tossing lightly as you go. Add broth until the mixture is evenly moistened.  Taste and add more herbs, salt, & pepper if needed.  
Layer mixture in a 9x13 baking dish and bake for 20-25 mins or until golden on the top.